Spotify Logging You Out? We Can Help
September 24, 2022
Wondering why Spotify logged you out? See our article for some reasons for this error and solutions.
Spotify is what helps to keep the mood up and bumping at your friends' houses. The app is the music library of the future that can hold an unlimited number of songs in your pocket. With your subscription to the platform, Spotify allows users access to their cache of songs, spanning all different types of genres and types of content, such as podcasts and playlists. Users can follow each other and listen to songs that they like as well as any fun playlists that they made. Acting as a social media for music, you can also follow your favorite artists and stay up to date with any of their new songs or more.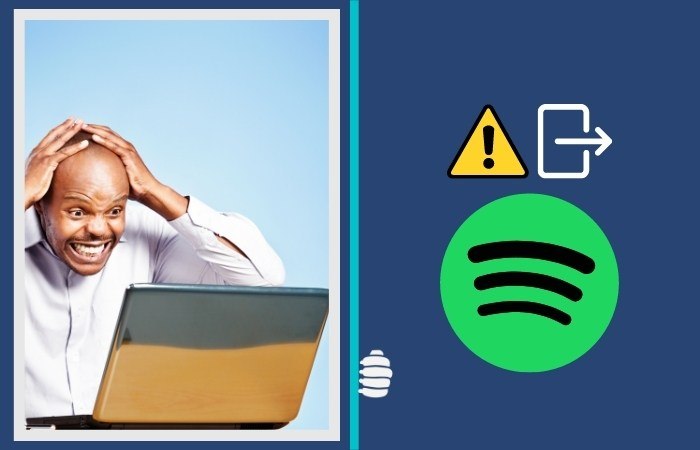 Why Did Spotify Log Me Out?
Spotify is a technological app that experiences glitches. It is common to experience Spotify logging out its users. If you are being logged out of the app without your consent, here are some reasons why this could be occurring.
The app is not up to date
As mentioned before, bugs and glitches occur from time to time. Software creators need to create new versions of the app to catch up with any known issues. Check which version of the app you have and update it if it's an older version. It is likely that this could cause your app to glitch and log you out.
Your subscription may have expired
Check your subscription and that it is up to date. If your subscription is not up to date, you may be logged out of the site. Make sure to check in on the payment method that you have provided. If it is not, your payment will not be able to go through. Be sure to check your email for any notifications from Spotify that may state that your subscription has been canceled.
Your password may have been changed
Did you change your password? Could someone else log into your account? Conflicts with passwords would have logged you out of the platform. Try to log into the site again.
Are You Logged Out? Troubleshooting Tips for Spotify
Here are some easy troubleshooting tips and tricks to get back into the Spotify platform with no hiccups.
Check your internet service
If you have suddenly lost internet connection or cellular service, you most likely will be logged out of the app. Check your connection to ensure it is strong. Try to log back in. If you can reconnect with no issues, then the problem may be with your account. See our section titled "Still Getting Logged Out? More Troubleshooting Options Below" for a link to the Spotify support team.
Check the phone number you registered with
If you do not have access or have changed the phone number you registered with on Spotify, you will not be able to verify your account. If you are getting logged out, you may be facing some issues with verification that needs to be confirmed with the organic number.
See our section titled "Still Getting Logged Out? More Troubleshooting Options Below" for more options if you no longer have access to your account.
Delete the app
If there are issues with the version of your app, or if your device cannot support it, it can result in you being logged out. Delete the app and reinstall, then be sure to try and login and see if the problem occurs again.
Still Getting Logged Out? More Troubleshooting Options Below
Did Spotify log you out everywhere? Are you asking, "Why did Spotify log me out?" If so, see our additional tips below.
Reach out to Spotify Support
The Spotify Support team can provide extra help. If none of these tips resolved the issue, there is something else that is occurring that is preventing your account from staying logged in on the platform. Click here to contact Spotify support.
Change your phone number on the account
Changing the phone number listed on the account is another option to update user information and try to fix this issue. Did you know you can rent a brand new phone number that is separate from your personal and pre-registered number? A temporary number. allows you to register for an unlimited number of accounts and features a pay-as-you-go system.
Register for a new account
Registering for a new account with Spotify can provide a final solution. A new account will allow you to access the platform. From here, you can also troubleshoot and see if the same problems are occurring with your new account.
From there, if you find that there are no issues, at least you can have access to an active account until you find out what is going on with your first account.
Rent a Temporary Phone Number for Your Spotify Account
When you create an account with Spotify, you need to register your phone number with the account might. The problem with using your personal phone number for your online accounts is that it can become difficult to access your account if you lose your phone, lose access to your number, or have other common issues.
Did you know that our service allows you to now rent a temporary or long-term phone number for personal or business use? Renting a phone number has many benefits and works to add multiple layers of security. Some benefits are SMS verification being able to change the number whenever you want, and more.
Renting a phone number for registry purposes keeps your online accounts secure and protected. Your own information is also protected from hackers or scammers because it is not associated with your name. If you are having trouble logging into your Spotify account due to issues with verification or need an additional phone number to create a new account, be sure to rent a phone number today. Now, you can easily stay on top of all your online accounts and not worry about more issues.